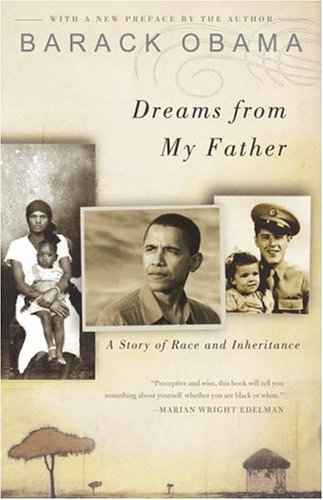 Can Obama organize a community for all Americans?
(
OK. The October book club selection is really late, but this book has been hard to come by. Guess why? -ed.
)
With Barack Obama seemingly on the verge of winning the Presidency, many observers -- both within the United States and otherwise -- may wonder precisely what it is that makes him tick.
Dreams From My Father
actually makes it abundantly clear.
First off, one may wonder how many American liberals might be uncomfortable with the reality that Obama actually reflects a politically incorrect aspect of African American culture -- the unfortunate stereotype of the absentee father.
Obama spends the book equally divided between three different tasks: chronicling his experience growing up without his father, his experiences as a community organizer in Chicago, and his direct confrontation with his identity as an African American in Kenya.
Most interestingly, the path Obama seems to be following to the White House -- unless the numerous undecided voters still at stake in the 2008 Presidential election intercede -- seems to closely resemble that of
Harold Washington, the first African American mayor of Chicago
.
Interestingly, Obama's presidency may pose the same dilemma to young black leaders as Washington's mayoral reign posed to Obama. While trying to organize numerous iniatives for the betterment of Chicago's Altgeld neighbourhood Obama came face to face with the complacency of older, more entrenched black leaders who believed they had a "direct line to the mayor's office".
An Obama Presidency may fool many black leaders into a similar sense of complacency -- causing them to forgo community measures in favour of expected initiatives from higher on. In the end, it's possible that an Obama Presidency may serve to undermine community-level initiatives.
The other interesting element of Obama's personality that emerges is a wariness of his father's thwarted ambitions. Having studied in America -- in Hawaii and at Harvard -- Barack Obama Sr expected to become a prominent man in Kenya. Yet a seeming lack of political savvy wound up with Barack Sr falling out of favour with the Kenyan leadership resulted in the promises of such prominence vanishing before his very eyes.
Encounters with various family members in Kenya underscored an expectation that Obama will accomplish great things of Obama. That and intra-family rivalries may be serving to intensify the personal pressure on Obama to emerge victorious from this presidential campaign.
Dreams From My Father
is a fascinating, thought-provoking read. It's well worth the time to finish before the election on November 4, if one can find the time.