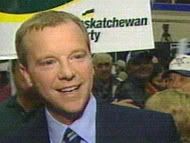 Saskatchewan Party wins majority government
The NDP was unbeaten for 16 years.
That was eventually going to come to an end. It was inevitable.
7 November 2007 will now be recorded as the day the inevitable occurred, as the Saskatchewan party captured 37 seats to the NDP's 21 and the Liberal party's
zero
.
Brad Wall, Saskatchewan's new premier-designate, commented on the spirit of change expressed in the vote. "And now for something completely different!" he exclaimed.
"Thank you for the confidence you've placed in me," he said. "I'm going to work very hard not to let you down."
Even with up to 30% of Saskatchewan's voters undecided heading into election day, the writing, as it seems, really
was
on the Wall for Lorne Calvert, who didn't find his ballot box bonus.
In retrospect, however, perhaps the seeds for Calvert's defeat were planted as early as 2006, when the Conservative party -- arguably the Saskatchewan party's federal political counterpart -- claimed 12 of the province's ridings. The Liberals won two. The NDP failed to win a single seat.
When a federal party fails to win a single seat in a province its provincial wing governs, an alarm should sound for the province's incumbent government.
Calvert may have heard these alarms -- although perhaps a tad late -- when he
chose to pick a fight with Stephen Harper equalization
. With an election looming, Calvert continued to press his battle with Harper, even testifying before a Senate committee while feeding the Senators and media present a constant stream of "fairness for Saskatchewan rhetoric".
It could be argued that Lorne Calvert forgot about the individual who
would
be his principle opponent, Brad Wall. However, he did find some time to engage in some preelection campaigning against Wall, when he unveiled his party's "Wolf in sheep's clothing" campaign.
Yet, when he finally called the election, Calvert (despite his party's head-start in the campaign), quickly found popular support slipping away, as the Saskatchewan party transformed a 40+ share of popular support into a 54% share.
It certainly couldn't have helped when Jeff Potts, Wall's opponent in Swift Current, was caught lying about not only Wall himself, but about Wall's father as well.
Public reaction was decisive
, forcing Potts to bow out in disgrace.
When
Dan Harder withdrew as a candidate
, most of the attention was still directed at Potts.
Meanwhile, Wall himself was able to run a solid campaign.
With public sentiment quickly aligning in favour of the Saskatchewan party and no gaffes appearing on the horizon, the election rolled out pretty much as planned.
Unfortunately for Lorne Calvert, it was Brad Wall's plan.
Now, Saskatchewan has embraced change. How mucn Wall and the Saskatchewan party has yet to be seen.