Citizens of Saskatchewan cast their ballots today
The winds of change just might be blowing through Saskatchewan -- but citizens of that province will have to wait until later tonight to see if that particular weather forecast holds true.
In the closing hours of an election considered by all too many to be a largely foregone conclusion --
the latest polls
suggest the Saskatchewan party holds the support of 54.2% of decided voters -- Lorne Calvert wisely reminded reporters that the fat lady isn't singing yet.
"The final poll comes tonight," he announced, shortly after voting.
Calvert's NDP polled at 33.7%.
While polls can often be misleading (although the polls have remained remarkably consistent, despite the employment of
two
different polling firms -- Environics and Sigma Analytics), it's important to remember that the only poll that
really
counts is the ballot box.
Of particular concern for the Saskatchewan party is that the bulk of their support comes from rural ridings, although various commentators expect that the Saskatchewan party may pick up the necessary urban seats to win this election. Should that happen, the NDP will need to win an offsetting number of
rural
seats, but given that the NDP has written off rural Saskatchewan, that's a highly unlikely scenario.
This sudden upturn in the Saskatchewan party's fortunes in urban Saskatchewan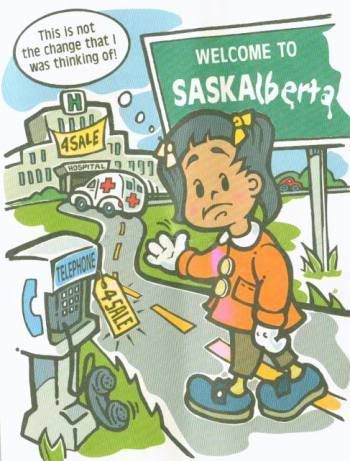 Some
last-minute fear campaigning
by
CUPE
, however, suggests that these urban ridings may not go down so easily. Despite the disappearance of the issue from its platform, enough
privatization-related paranoia
may resurface to potentially sink the party's prospects in the province's cities.
For his own part, Calvert has echoed a similar paranoia in his final remarks. "It's been our challenge in the campaign to point out that change just for the sake of change brings with it a fair risk," Calvert said. "It's a challenge. We're not finished yet. We still have a few hours."
Yet Saskatchewan party leader Brad Wall takes a very different outlook on the promise of potential change.
"I think in play in this election very much is the question, how do we ensure that the current momentum can translate into a lasting prosperity," Wall said. "That goes to vision, it goes to economic plans, ideas in the campaign. And we have worked hard on our economic plan for the province. I think it's resonating with voters."
The election will not be decided according to the polls. Any Saskatchewan party supporters who are planning any premature celebrations may want to keep in mind that the election isn't over until the last ballot is counted.
This time tomorrow, Saskatchewan just may have a new premier-designate.
The work toward that end is finished. The campaign is over.
Now all Saskatchewan can do is vote, then wait.