Liberals can choose between non-combat and Kandahar -- but can't have it both ways
There's been a lot of talk in Canada over the past few weeks about Afghanistan.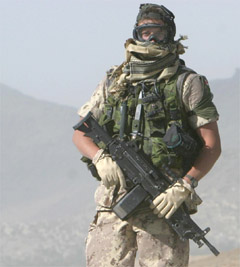 In particular, the governing Conservative party and opposition Liberal party have both been touting their plans for Afghanistan. The Conservatives have recently announced that they're willing to extend the combat mission to 2011 -- and put their government on the line doing it -- if NATO can drum up an additional 1,000 troops for Kandahar.
NATO has already proven quite amicable to this idea -- France has already pledged an additional 700 paratroopers for the volatile region.
The Liberal position, meanwhile, has been less than clear. It's basically been outlined as "remain in Afghanistan, but shift away from combat".
"Our position is very clear and we're very united around this position. I'm just saying that maybe we weren't clear enough in communicating it, so we should be clear," Liberal MP Pablo Rodriguez admitted.
And so the Liberals have taken it upon themselves to
make their alternative mission crystal clear
.
Lo and behold, it turns out that the Liberal alternative to the mission
they themselves initiated
is almost entirely unfeasible.
Basically, the Liberals' alternative plan works out into three basic points:
"• NATO must secure troops to rotate into Kandahar to allow Canadian troops to be deployed pursuant to the mission priorities training and reconstruction;

• The government must secure medium helicopter lift and high performance Unmanned Aerial Vehicles; and

• The Government of Canada must immediately notify NATO that Canada will end its military presence in Kandahar as of February 1, 2011 and as of that date, the deployment of the Canadian Forces troops out of Kandahar will start as soon as possible, so that it will have been completed by July 1, 2011."
"The Liberal amendment also stipulates that after February 2009, Canada's mission in Afghanistan should consist of training the Afghan National Security Forces, providing security for reconstruction and development projects in Kandahar, and continuing Canada's responsibility for the Kandahar Provincial Reconstruction Team," the Liberal party press release continues.
It's in regards to this last particular passage that the Liberal plan -- at least the third and seemingly most important principle of it -- falls entirely to pieces.
Helicopters and Unmanned Aerial Vehicles would actually be extremely valuable resources for Canadian troops in Afghanistan to have -- the Liberals should be applauded for recognizing this. Also, a Canadian shift away from combat toward reconstruction and training the Afghan army would require NATO produce troops to replace them.
This being said, the Liberal party plan falls apart as soon as one takes into consideration that the Canadian mission in Kandahar, so long as it continues,
will be
a combat mission.
The plan is also entirely unfeasible in setting 2011 as an end date for the Kandahar mission. While Canada certainly needs an exit strategy in Kandahar in particular and Afghanistan as a whole, the simple fact of the matter is that a time-oriented exit strategy is a recipe for failure.
What is needed is a
task-oriented
exit strategy. And while a time frame should certainly be set outlining the period of time in which we plan to achieve these goals, we cannot allow that time frame to dictate the rest of the mission to us.
Most of all, the Liberals are trying to sell Canadians a choice that simply doesn't exist. We can either choose a non-combat mission, or we can choose to continue the vital mission in Kandahar. We cannot have it both ways, and this all comes back to a point of fact that the Liberals simply don't seem to comprehend:
The Talibian is active in Kandahar, and they won't lay down their arms simply because we're training the Afghan army and building civil infrastructure
. If we go on the defensive, the Taliban will simply go on the offensive. And they will not relent.
As such, so long as Canadian troops are in Kandahar, neither should we.
The Liberals need to go back to the drawing board, and we as Canadians need to keep sending them back to the drawing board until they understand the realities on the ground in Afghanistan.