Evolutionary theory being bastardized in the name of manufactured scandal
A controversy was recently sparked when
federal Science Minister of State Gary Goodyear recently refused to answer a question about whether or not he believed in evolution
.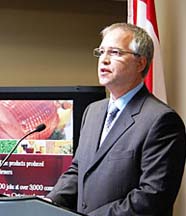 "I'm not going to answer that question. I am a Christian, and I don't think anybody asking a question about my religion is appropriate," Goodyear explained.
"I do believe that just because you can't see it under a microscope doesn't mean it doesn't exist. It could mean we don't have a powerful enough microscope yet. So I'm not fussy on this business that we already know everything. I think we need to recognize that we don't know," Goodyear later added -- a comment that some individuals have jumped upon as apparent proof that Goodyear believes in creationism.
Yet in a later interview,
Goodyear further explained his refusal to answer the question
.
"I didn't answer the question because it's not relevant to the portfolio, it's not relevant to what we have to do, [to] what Canadians are worried about," Goodyear explained on CTV. "It's unfortunate a reporter has chosen to take this as something of interest when in fact the focus should be on ...creating jobs and securing our economic future."
"The interview was about our science and tech strategy, which is strong," Goodyear added.
When asked in that interview whether or not he believes in evolution, Goodyear confirmed his belief.
"Of course, I do," he said. "We are evolving every year, every decade. That's a fact, whether it's to the intensity of the sun ...or to the effects of walking on concrete. Of course, we are evolving to our environment. But that's not relevant."
Many of the most intellectually dishonest among those who are out for Goodyear's head are insisting that Goodyear's latter comments reflect an understanding of adaptation, not evolution.
The fact that they're ignoring is that,
as a fundamental principle of the theory of natural selection
, adaptation is also a fundamental principle of the theory of
evolution
.
It's very interesting that
PZ Myers, a blogging biologist who has helped spread this controversy
, has yet to acknowledge Goodyear's comments
or
correct any of his followers who are twisting evolutionary theory in order to preserve the controversy.
Unshockingly,
the
usual
suspects
think they have a real winner on their hands.
As usual, they'll ignore facts -- and apparently even bastardize the theory of evolution -- in order to enjoy a hollow triumph.
Canadians who aren't indulging themselves in willful ignorance will recognize Goodyear's comments for precisely what they are: affirmation of his belief in evolution.
Other bloggers writing about this topic:

Larry Moran - "Gary Goodyear 'Clarifies' His Stance on Evolution"

Pearce Richards - "Gary Goodyear - National Embarrassment"

Ian Bushfield - "I'm Not Buying It Gary"