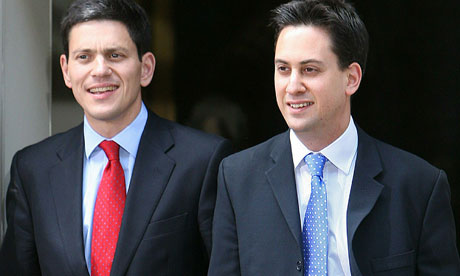 Labour leader wants his brother in his shadow cabinet
With all the bad news piling up for Labour leader Ed Miliband, he could certainly use some good news.
The news he would welcome most is embracing his brother David back into his inner circle.
As Miliband prepares to
promote a number of women within his shadow cabinet -- including Yvette Cooper
-- what Miliband
really
covets is the return of his brother.
"David is a massive asset to our politics and our party," the younger Miliband declared. "And I've always said I'd be happy to have him back, I want to have him back. But in the end he's got to decide what's the right thing for him to do."
After the 2010 Labour leadership contest, the elder Miliband decided the right thing for him to do was sit on the backbenches. But with Labour struggling in Parliament and suffering in the eyes of Britain's political class, Ed Miliband needds a game-changer.
The addition of David Miliband to his shadow cabinet could be that very game-changer. But it seems tension between the two siblings could be preventing that from happening.
"It was a difficult leadership contest that we had. It was difficult for us. The reason I stood is because I felt I had something distinctive to say and I said it yesterday [in my conference speech]," the younger Miliband explained. "That is was why I ran. That's what I believe. That's why I think society needs to change."
For his own part, David Miliband is focused on grassroots organizing for a Labour Party that has come to tend to neglect that key part of political organizing.
"It is my way of supporting Ed, supporting the party and helping us back into Government," the elder Miliband explained. "He's been very supportive, the party's been supportive, which is good."
The problem for David Miliband is that the weak leadership being provided by his brother threatens to undermine any gains he makes through grassroots organizing. Perhaps it isn't merely Ed Miliband who needs his brother in the shadow cabinet. Perhaps David Miliband needs to be there to shore up his own gains.
Either way, the Miliband brothers are better off working together
within
the shadow cabinet. Even if David doesn't see that, Ed keenly does. How could he not?