Beth Stanfield may not support federal Conservatives in next election
Depending upon who you asked, dark, foreboding clouds have been gathering over Prime Minister Stephen Harper's head for the duration of his tenure as Prime Minister.
Many comentators (conveniently from the Liberal party) have spent a good deal of time speaking about the "control freak" Stephen Harper, who's been courting disaster by gagging his cabinet ministers and caucus while iron-fistedly dictating his government's agenda.
Many of them took the expulsion of Cumberland-Colchester-Musquodoboit MP Bill Casey as a sign of this. Casey, representing a Nova Scotian riding, voted against his own government's budget over complaints regarding the Atlantic Accords.
Now that
Nova Scotian premier Rodney MacDonald has struck a deal on the equalization front
, many apparently expected that Stephen Harper would allow Casey back into caucus.
No dice.
Casey may not have done himself any favours when
he accused Harper of breaking the trust of Nova Scotians
despite the deal.
On the other hand, the
Cumberland-Colchester-Musquodoboit Conservative riding association endorsed Casey as their candidate for the next election
.
That won't be happening.
"[Casey] will not be a candidate," said Conservative party spokesman Ryan Sparrow. "With his budget vote, Bill Casey joined with [Liberal Leader] Stephane Dion in voting non confidence in the Conservative government and his Conservative colleagues. He made his choice."
Casey will run as an independent in the next election.
Yet, Harper's stance regarding Casey is risking more than simply Casey's riding. It's also risking the stalwart Conservative party loyalty of the Stanfield family.
Robert Stanfield, former premier of Nova Scotia, formerly led the Conservative party, serving as leader between 1967 and 1975. In 1974, he came within a hair's breadth of defeating sitting Prime Minister Pierre Trudeau, and was actually officially declared the Prime Minister prior to a recount that delivered a narrow minority government to the Liberals.
Among Stanfield's political qualities was his party loyalty (perhaps second only to his stridently non-partisan approach to the Prime Minister's office and the business of government). To Robert Stanfield, it has been said, there was only one Conservative party in Canada. He believed in complete unity, across both federal and provincial politics.
He was also one of the fabled "Dalton's boys."
Beth Stanfield, however, is prepared to do what her husband would have considered unthinkable, and break ranks with the federal Conservative party. However, she certainly hasn't done so lightly.
"It's a hard place to be right now," said Stanfield. "I've been such a party person. I have always worked for the Conservative Party."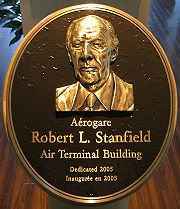 Ironically, Stephen Harper presided over the dedication of the Halifax International Airport as the Robert Stanfield International Airport. Now, he's risked the loyalty of family of the most dedicated supporter the Conservative party has ever known.
This certainly doesn't look good on the "new" Conservative party, one born of both the Burkean theory of conservative politics and the Manningian populist model favoured by the Reform party.
While Casey certainly
did
vote no-confidence in
his own government
(this must be remembered), the party members in Cumberland-Colchester-Musquodoboit have spoken. They want Casey as their candidate. They obviously believe in the man, and agreed with his stance regarding the Atlantic Accords (even if other politicians have turned out to be more moderate on the issue).
Harper would be justified in perhaps keeping Casey on a shorter leash, but keeping him out of the party caucus is difficult to justify in the new, more popultist Conservative party.
Then again, once the bond of trust between a candidate and his party is broken, the party certainly isn't obligated to extend trust where cause for that trust simply isn't present.
But these are two very serious prerogatives -- that of the party leadership, and that of its riding association -- that the Conservative party must try to juggle in this situation. Not an enviable task.
If Stephen Harper wants to insist that Casey not be allowed to run as a Conservative party candidate, he's certainly empowered to do so, and perhaps even justified. But if he does, he'll simply have to accept the consequences.
The legacy of the Stanfield party loyalty is a very steep price to pay.