Red Tory still running his mouth (on empty)
Despite his typical lack of anything decent to say, Red Tory is still trying desperately to carry on his one-man-vendetta against the rest of the blogosphere, today taking aim at Nexus of Assholery valued collaborator
Werner Patels
and (predictably) at the Nexus istelf.
In particular, RT directed his ire at two posts:
one written by mr Patels advocating for a bloggers' code of civility
, and
another, written by myself, that addresses some of the philosphical underpinnings of the climate change debate
.
Once again, Red Tory's issues with the posts in question aren't very well clarified.
Of course, his steadfast defences of Canadian Cynic's vicious attack on Wanda Watkins pretty much does demonstrate where he stands regarding civility. Then, there's (g)utter
genius
like
this
.
We can easily ascertain where Red Tory stands on the issue of civility.
Then, there's the question regarding the climate change post. Perhaps he'd like to clarify his misgivings. Does he take exception to the idea of virtual reality ideologies (he may want to take that one up with Norman Mailer, who actually wrote it as a criticism of the war on terror that Red Tory so stringently opposes). Does he want to refute the idea that climate change is often envoked in explaining phenomenae to which it is dubiously (if at all) linked? Does he want to refute the idea that climate change (vis a vis global warming) is often envoked as a preconcieved notion?
He can consider himself free to answer, but he won't, and here's why:
He's just too damn
angry
.
Why is he so angry? It's actually pretty simple to explain. While an obvious tinge of jealousy directed toward people who have something
other
than other people's blogs to write about seems detectable, it really does seem that he's mad because someone addressed him.
But here's the kicker:
Red Tory addressed us first
.
One can actually consider the discovery of this remark (which, at the time barely seemed worthy of addressing) as a fluke committed in the process of exploring the blogosphere. It was written in response to a post on
Dark Blue Tory
. It reads as follows:
"
Hmmm. Let's see what "original thoughts" CBL has, shall we. A link to a site called the "Nexus of Assholery" that… surprise, trashes liberals accuses Dion of "slander" and features a picture of George Bush giving the finger.
"
Perhaps it was thus unsurprising that Red Tory was so eager to address us here at the Nexus. Yet, one has to consider the ridiculousness of this. At the time, Red Tory's premier problem with the Nexus was
this
: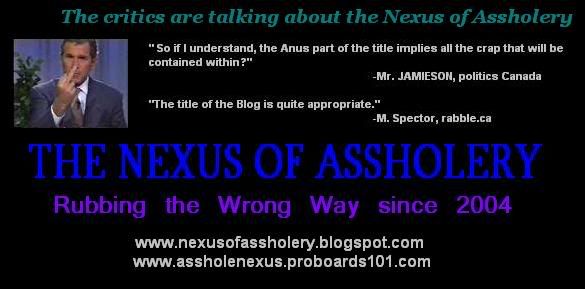 I later explained in a post that this banner is actually supposed to be ironic. Red Tory was clearly "barking up the wrong tree" (his words), considering the previous banner:
Merely by viewing a banner that its test audience found hilarious, Red Tory thought he identified an ideological opponent, and he has since been steadfast in his attacks. Then, when someone decided to push back, he just plain
got mad
.
I was one. Now, should the esteemed mr Patels choose to keep pushing back, we are two. Red Tory seriously needs to reconsider how much time he's willing to spend pursuing conflict with someone who is really
not
a mere ideological opponent (ideally, an ideological opponent should actually be a fellow ideologue, and Red Tory simply hasn't found one here).
He and the rest of the trolling yellow "journalists" of the blogosphere (right or left) need to understand that if you attack us at the Nexus, we at the Nexus will respond. Perhaps Eminem has actually said it better than anyone:
"
We're gonna bring it to anybody who want it/
You want it you're gonna get it/
You name 'em we're gonna hit 'em/
Chew 'em up and spit 'em out/
(Too much venom)/
And if you roll with 'em we're gonna fuck you up with 'em"
We can keep this up as long as you can. By the by, just keep on getting mad, because it just makes us seem all the more rational, and makes you seem all the more ridiculous.